Pay It Forward – Random Acts Of Kindness – Blog Hop
The Random Acts of Kindness Blogfest
Paying it forward.
I saw this movie oh so many years ago and I fell in love with it's premise. I grew up with the notion of paying things back to the one who dealt the deed. But really, it's not about owing someone a good turn. It's not about owing anything to anyone. It's about sharing those good turns to get the maximum amount of goodness exposed….shared.
Do you remember The Golden Rule? Do unto others as you would have done unto you. I really fear we don't teach this to our children anymore. I grew up with this mentality.  And I sure wouldn't want bad things to be done to me. So I try to treat everyone as I want to be treated, if not better.
Everyone tells me what goes around comes around,  be it good or bad. And I truly believe in Karma. I've given so much of myself in the hopes I would receive the same. But it always seems I'm the one wanting.
I'm supposed to talk about what good deeds that have been done to me, but what I really want to share are a few things my husband and I have done for others. There was a time, when my little one was actually little, and we struggled to make it through to the next paycheck. It was close to the end of the pay period…the paycheck was coming up the next week. We had to get gas and we were down to our last hundred dollars. If something catastrophic were to happen, I was never sure how we would handle it. So, holding on to all the money we could before the end of the month was very crucial.
Have you ever pulled into a gas station and have someone come up to you asking for a couple of dollars, just so they to get a gallon of gas? Most of these are scams. I've seen it happen in parking lots mostly. But a few times at the gas pumps where the person walks from car to car. If you watch them, they just wander. There's no empty car sitting anywhere.  We don't normally give to these types of people.
When we pulled up to our pump, we noticed the car across the way from us. It was a beater. There was a pregnant woman in the passenger seat. I mean PREGNANT. The husband was out side the car, looking. He came up to us and asked for $2. (at the time, gas was about that). He said he just needed enough gas to get his wife to her doctor's appointment and back home. When we saw she was pregnant, we swiped our card and told him to fill it up. He looked at us in wonder. He said he couldn't take that much. We insisted. He asked us for our address so he could pay us back when he could. We just told him to pay it forward. "Promise. If you ever see anyone in this much need, no matter if you could afford it or not, share the kindness." The man promised and the woman cried. Which made us cry.
Another example of paying it forward happened not long after. Two doors down from us, a husband murdered his wife, leaving the two little boys orphans. I felt terribly heart broken for them. They needed some comfort. So I decided to make each boy a comfort quilt, to let them know that they are loved. I couldn't imagine what emotional scars will come out of that. But if they could see that not everyone is evil, not everyone would abandon them, and that a stranger had love for them, maybe, just maybe they wouldn't feel so alone. So I made them each a quilt and dropped it off to the investigator in charge of their mother's case. When they asked who should they say it's from, I just told them to tell the little boys, "from someone who cares and doesn't want them to feel alone." I know they may have been too young to understand at the time. But I do hope it helped them through, and that they remember and understand when they get older. Hopefully, they will be able to pay that kindness forward too.
This past Christmas, an old friend of mine sent me and a few others an email asking for prayers she could give her two daughters a Christmas. She struggled with medical bills and a bad divorce. All they asked for were a doll each and a Kindle Fire to share. I just bought a new laptop, and the deal was a free Nook. We already had a Kindle and a Sony eReader. I offered it to my son and told him about the two other little girls. It didn't take him long to decide to help them, since he realized he likes real books better and he can use our eReaders if needed.
I'm reminded of another attempt at sharing kindness. It was during my husband's deployment to Albania and Kosovo back in 1999. Here is the re-post:
8/20/02      It was about April of 1999 when they deployed my husband and his unit to the conflict in Kosovo. I kept current with what was going on over there through CNN, the Internet and the Stars and Stripes (the military newspaper overseas). One day in early May, I read a story that touched me on many levels. It was about a family going through a hardship because the father hurt himself and could not work any more, while the mother struggled to make ends meet. Despite their financial and emotional burdens, they wanted to help the soldiers in the Balkans by donating the mother's new design of Angel Pins but she had no idea how to get them to the soldiers. She wrote a letter asking for anyone who could help distribute the pins. Here is the story of Patricia C. Gallagher and her family's request:
Dear New Friend,
Two years ago my life was going well. I had four healthy children, a husband with a good job, and we were about to buy a new house in a great neighborhood for raising a family.

Then tragedy intervened. My husband was seriously injured in an accident. He spent five weeks in the hospital and came home to an orthopedic hospital bed set up in our living room. How difficult it was for all of us! I had never been a caregiver before. On many a summer evening, I sat numb in the back yard staring up at the stars and cried to God, "How… how am I going to do this?"

Finances became strained. It was a struggle to stay in our old home. Moving to the new one was out of the question. As the costs of co-pays and unreimbursed medical expenses mounted, my husband's diminished salary did not even come close to meeting them. But I myself was unable to get a job because I had to remain at home as wife, nurse, and parent. One evening, feeling totally overwhelmed, I sat down and wrote a poem. I called it "A Team of Angels for the Overwhelmed" for I felt that only with heavenly aid could I survive. It helped me to stop feeling sorry for myself. And when, a few days later, I met with a friend whose son had died, I realized that as difficult as my own troubles were, those of others could be much worse. That realization, I sensed, was the Gift of the Team of Angels.

You may think me reckless and foolhardy, but I designed a Team of Angels lapel pin and had 10,000 of them manufactured and mounted on cards bearing my poem. To get the money for this, I took out a home equity loan, even though our family's financial situation was perilous. From the porch of our house, I gave away 5000 pins to others who were struggling with personal crises. And because this was about the time of Kosovo, I donated 5000 more to our troops serving there. My friends and relatives were aghast. Well meaning people whispered, "Is she crazy? Buying 10,000 pins to give away to strangers when her own family is sinking financially?"

But God works in mysterious ways. As my Team of Angels pins circulated around the world, requests for them began to come in from anguished and troubled individuals everywhere. Though I could not afford to give them away any more for free, I decided to offer them for sale at a small cost. That was the best way, due to our family crisis and the blessed intervention of Providence, and so I started my own small business at home. Requests for Team of Angels pins have grown so that I am slowly paying off the home equity loan and beginning to reduce some of the deficit in our family's personal finances. As I write this, more than 50,000 Team of Angels pins and poems are flying around the world spreading messages of comfort and hope.

In my own home, the effects have been just as dramatic. My husband's injuries have diminished and he now takes an active part in my activities, guiding me with his business acumen and sound common sense. Our children have begun to customize Team of Angels pins for sale at local outlets. Their parents' concerned faces no longer worry about them. And my parents, both 74, now assist me in the basement of our house with packaging and shipping. Family crisis brought us together – now more loving and caring than before.
How grateful I am! Grateful that my husband is on the road back to health, that the burden of worry has been lifted from my children's shoulders, that I am as close to my parents now as I was as a child, that my family no longer faces financial disaster, and most of all, that I have been able to ease the pain of souls as troubled and hopeless as I myself once was. We still have our challenges, but we are trusting in God's mysterious ways!

Sincerely,
Patricia C. Gallagher
I read her request and felt the need to help her get these pins to our soldiers while also showing those serving that there was someone who wanted to reach out and send them a gesture of hope and encouragement. So I wrote my letter to Mrs. Gallagher and a few weeks later, she sent me a box of 200 or so pins. I mailed them to my husband in Albania and enclosed the newspaper article and explained to him what it was I was doing. He loved his pin and wore it close to his heart despite it being "Out of Uniform". However, he found the perfect place to hide it while still wearing it in uniform.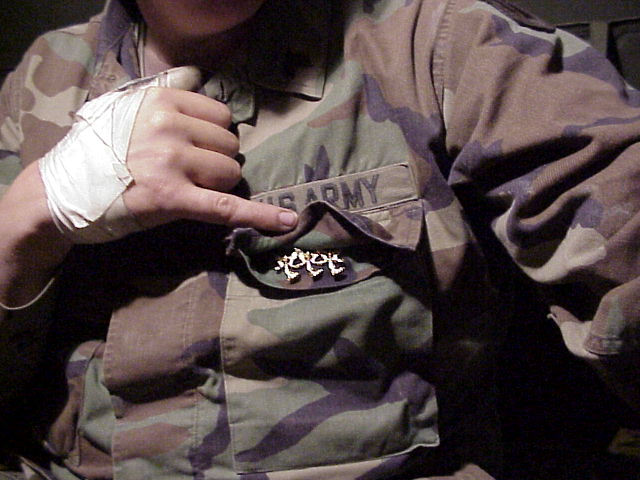 My husband told me stories of how grateful some of the soldiers were for their angels. I was honored to bring a smile to someone's face. I am happy to know that they know someone is proud of what they are doing. I ask nothing in return. If they so desire to do something small, my only wish is to "Pay it Forward", just like the movie. (If you haven't seen it, it is a must see!)
The Original "Team of Angels" Poem
A Team Of Angels
For the Overwhelmed

I need a team of angels, Lord –
I don't think one will do.
Please send me all the help from High
For what I'm going through.
Guardians to watch over me
And help my soul to cope.
I'll do the best I can to pray
And cherish gifts
of faith and hope.
Now a call to our Soldiers has come again. With the War on Terrorism into it's second year, and Operation Iraqi Freedom into it's third week, we all need to remember what it is we are fighting for. It's not oil, it's not money, it's not fame. What we fight for is our freedom, our livelihood and our country. We must support our troops for they defend our rights. Whether you believe we should be at war or not, you must support those people who are willing to lay down their lives for you. They volunteered to defend our great nation. They deserve a show of appreciation.
07/25/2005
I created an embroidered postcard for Trish Gallagher. The back has her poem handwritten. I will be mailing it to her and hopefully she will like it. Here's a picture of her Postcard Quilt:
There are so many little things we do, as well. Giving our hearts to our friends, never asking for anything in return. I always wonder if I do too much because I never see anything coming back 'round to us. I need to constantly ask the Lord to help me see, because I am sure I must be blind. I do remember one thing, recently, that helped lift me up. A friend wrote on his blog that I inspire him. This really touched me. It made me see that I am not doing this all for nothing. So I will continue to perform random acts of kindness and keep paying it forward. It really isn't what we do for others, just that we care enough to do it.
Please see below for information on EC Stilson's Random Acts Of Kindness Blog Fest.
**************************************************************
As a Random Act of Kindness, Wayman Publishing is offering these eBooks for FREE download during the Blogfest (May 27th – 31st).

The Sword of Senack
–FREE Download
Middle Damned
–FREE Download
How to Lose a Tooth
–FREE Download
Bible Girl & the Bad Boy
–FREE Download
The Golden Sky
–FREE Download
Open Doors: Fractured Fairy Tales
–FREE Download
Open Doors 1
–FREE Download
Buy any of Wayman Publishing's books—the FREE eBooks (above) included—and be entered into our iPad Mini Sweepstakes!
Visit this link for more info:
ow.ly/jsQVv
Feel free to join up anytime from May 27th-31st.  Just sign up at the bottom of this post, then write a blog post about a random act of kindness that you've experienced in your life.
For the blog fest, you can write something for any/all days. Here's the button for the blogfest:
Powered by Linky Tools
Click here to enter your link and view this Linky Tools list…
 **************************************************************
5 Comments