Numbers, Numbers, Everywhere! And Not A Number For Me!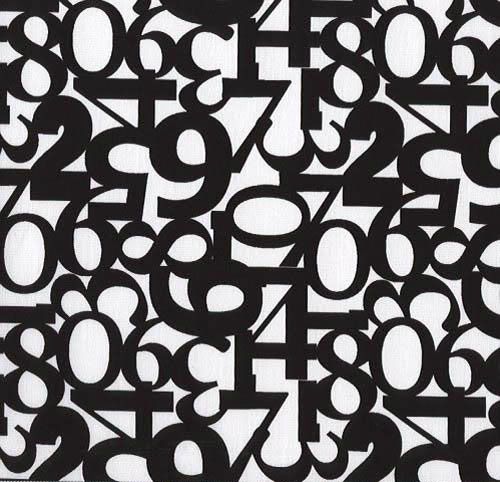 Numbers are everywhere.
House numbers. Phone numbers. Speed limits. Money. Pricing. Quantity. Time. Length. Height. Weight.  Sports scores. Statistics. Distance.
Some numbers are good. Like the years you've been married, or the date your child was born.
Some numbers are bad. Like your weight, your Cholesterol levels, groceries, gas, and even the price of that house, or car, you want but know it's not practical.
For me, after eight and a half months of writing, nearly every day, I've managed 40,000+ words. Despite being so proud of myself for not giving up, I've come to a conclusion:
Numbers depress me.
I can get obsessed over numbers. Numbers are everywhere. And when everyone's talking about their numbers, I have got to be out there making my own.
I noticed this when I play any of my xBox games. I have to get ALL THE achievements. (I've since learned I get all the ones I CAN get, because, let's face it, I suck at multiplayer. Heck, my emblem is a bulls-eye on Halo! At least I acknowledge it and have fun with it, right?!)
But then there are games like the Assassins Creed series. I. Must. Get. ALL. The. Achievements. And not just all the achievements, but I must get 100% on all the missions (which there's an achievement for that, too).  I will obsess over each mission, stress myself out, and sometimes even give myself a panic attack. Then, they threw in their own multiplayer a couple of games ago. And, unfortunately, I suck at the at that as well. (I can't put a big ol' bullseye on my hoodie now can I?! What kind of assassin would I be?) Not so much suck, really, more like I seriously can only play one or two matches before my heart is racing, my hands as sweating, and my breathing is shallow and fast and I'm starving for air. A serious panic attack ensues. So, I've resolved myself to not playing the multiplayer. I am hoping one day Ubisoft will come out with a co-op multiplayer (And I think there will be in Assassins Creed III, so can't wait!).
Then there's the blog. Ever since I started it, I've obsessively checked my stats pages. (It's probably similar to those of you who've self-published checking your downloads and sales numbers.) Has anyone read what I wrote? How many? How many comments? None! WHAT?? Seriously. Ugh! I suck!
And now, there's the numbers of writing…
Not only are their unending numbers in my gaming life, real life, blog life, now I'm faced with unending numbers in my writing life.
There's the average word count for flash fiction, short stories, and novels. Then there's average word count for a middle grade, young adult, or adult novel. There's also average word counts for an epic fantasy or a romance novel.
There are days I'm left to wonder if I'll have enough words to even FILL a novel! I'm never wondering, or fretting, over the number of words I'll cut (that's another number in case you didn't know!)
Everyone goes on writing sprints, write or die, word wars. And then there's NaNoWriMo. Oh My Gaw! Seriously? How could you write a novel in a month? 50,000 words in 30 days? 1667 words per day? 5 ½ pages per day? (See, more numbers!) And then you could break it down even further! You could go the part-time route, 4 days writing/3 days off. That'll be 3,125 words per day, or 10 ½ pages a day. Or if you are really masochistic, only write on the weekends! That's 6,250 words a day, or 21 pages a day.
People do it all the time. People pledge to write 1,000 words a day, everyday! People pledge to write 1,000 words in an hour!
I'm not people.
I always seem to fail pale in comparison.
When I started following all these writers on Twitter, I actually thought it would help me. I thought it would motivate me. Get my word count up. You know?!
But, it just brought me
d
o
w
n
It hindered my writing. My word count. My inspiration and motivation.
Then I found the #writemotivation group on Twitter. They rooted for me, cheered me on, and flung flaming stripper robot zombie dino cookies at me. They cheered for my measly 100 words in a single day. They didn't judge me or compare me to anyone else. They commend me for my progress, no matter how small. (Pssst…Join in on Twitter, whenever! And you can still sign up for the goal check over on KTHanna's site! Do it! DO IT NOW! You won't regret it!)
Progress is progress. And that's always good.
Inside, though, I still think, "Why can't I write this out? Why can't I get all those word counts up? Everyone else can do it! Why can't I?" And then I get disappointed in myself. I start wondering if I really am cut out for this. Can I really write a novel? Can I really do this?
I know I've said before that surrounding yourself with positive helps feed the positive, but it truly is THE HARDEST THING to do. It's easy being miserable. It's easy being depressed. You have to WANT to be positive more than you want to wallow.
I get in the "I suck mood" more often than not. It takes a lot of energy to bring myself up. But you know what? I write through the negativity anyway. It may be a single sentence, or it may be only 100 words. But I write through it until I get back up, and then I write back down. Up, down. I have continued to write. It may not be every day, like I intended at the beginning of this year, but I write. And I do "writer-ly" things every day. (Reading is considered writer-ly, right?!)
I am constantly trying to remind myself of my Golden Rule for First Drafts that I came up with at the start of #WriteMotivation
Daily, sometimes hourly, I have to remind myself this. One word is progression! But why when I say it to myself, it doesn't sound as nice as when someone reminds me of my own advice??
Now that I think about it, I would have to say the deeper revelation would be:
Comparisons depress me.
15 Comments