Revisiting Old Wounds
Yesterday, I received an email telling me someone had posted a comment to a Live Journal post I had made back in 2005. I didn't realize I still had that account.
In April 2005 updated my family website with these two posts:
4 April 05

We had something really horrible happened 2 doors down this weekend. Sunday morning we woke up to about 15 cop cars outside our house. The house 2 doors down was taped off and the cops blocked our street off. There were detectives and patrolman all over the place. At first the cops couldn't talk about the "situation" which is understandable. It wasn't until the 6 o'clock news did we find out anything. I knew it was horrible. The 6 o'clock news team showed up around 4:30pm and we waited and waited. The Clay County Sheriff finally came out and made his statement. The husband and wife were apparently fighting Friday night and somehow the husband managed to kill the wife. Luckily the two small boys were staying with family.

Here is the story:
http://www.jacksonville.com/tu-online/stories/040405/met_18387472.shtml

10 April 05

The medical examiner's findings were that he strangled his wife. No wonder none of us heard anything!
The post, and the comment, brought back so many memories and feelings. I do often wonder what happened to the family.
The comment had been directed to the following update I posted to our website:
At what point can a life amount to a pile of trash on the side of the road?
17 May 05

My heart hurts today. At what point can a life amount to a pile of trash on the side of the road for vultures to pick through?

After doing errands last night, we came home to see some people gutting the house two doors down. This was the same house that a woman was murdered in just last month. My husband went over to make sure everything was ok, and offer his help if needed. He found the father and the brother of the man accused of killing his wife just wandering around the garage, dragging things to the roadside or shuffling bags and boxes from one side to the other. It all looked aimless, distraught. They looked blank and didn't know what to do. By this time, a few good neighbors were around and managed to talk them into giving the items to charity. So, off the brother and father went dragging things back from the curb to the garage.

We learned a lot from just a few short minutes with the family. But we learned even more going through their life left on the side of the road. In life we never knew them but for a fleeting wave as we drove by or went from house to car. We would see the kids playing outside on the ramp their father made them for skateboarding. We would see their dad mowing the lawn. We offered our pleasantries; but that was the extent of our social interaction with them. Until last night…

In a few hours time, we learned how Kelly Cannon Deming grew up. She was a military brat who was on the varsity Volleyball team. She graduated from a high school in Italy. She joined the Navy, and apparently met her husband there. We found all their banking information—new and used checks, W-2s, credit cards, and pay stubs. We even found the deed to the house. All in the trash, like it meant nothing. Though some of these papers were old, I'm sure Kelly found it important to protect their information in life…well, we will protect her information in death. We gathered all this up, and I am going to shred what I can. The memories we are going to package up and we are going to somehow get them to her family. I don't think Kelly's parents had the opportunity to stay after the funeral. I don't blame them. It has to be so hard. But there are things I am sure they will want from their daughter's effects. I don't know the details and don't know if they were even offered by the husband's family. But from us, it was the right thing to do.

There were some tid bits of information that many people wonder about and no one ever finds out unless you are close to the family. Reporters never do a follow-up and we are all left wondering. But now, I at least have some understanding. I don't think that we need to go into detail here. But the main thing I wanted to find out was the fate of the two little boys. Know this; they will be adopted by their uncle on their father's side. From what I understand, he is a good Christian man. And, at least, the boys will be together and with family. It will be a hard treacherous road for them. They are so young to have gone through something so traumatic. I pray these boys find peace. I pray both families find peace. And I pray that Kelly Deming receives her justice!

Kelly Cannon Deming was a mother, a sister, a daughter, a friend. Her life was not trash for scavengers.

Kelly Cannon Deming, born 1966(?)—died April 1, 2005
The comment was a very touching update from an anonymous source:
(Anonymous) (71.203.168.253) wrote:

Jun. 13th, 2012 03:38 pm (UTC)

If you want an update…

The two boys of Kelly are now my neighbors. They live with their grandfather, a veteran of the USMC, and their Japanese grandmother. I have never met their uncle or their father, as he was convicted with murder and serves time behind bars where they visit him two or three times a month. The boys miss their mother, the older one more than the younger, but they have learned that life goes on.When I first heard what happened to their mother I couldn't believe it, I didn't understand but I was only twelve when the older son, thirteen at the time, told me. It was very touching for me when he took my hand one day, put it next to his own and told me that my hands reminded him of his mother's.I can tell that you were touched by them in 2005 and I have only now found the need to find out what really happened to Kelly and found this page through my search. God bless you and your family.
I am very grateful for the update and am pleased that the two boys have pushed through the hard times and they are well-loved. Unfortunately, we never found Kelly's parents. And when our water heater failed and flooded our garage and living room several years back, the memories were destroyed. It was hard to trash all that after trying so hard to save it all. I do hope her parents have found peace, though.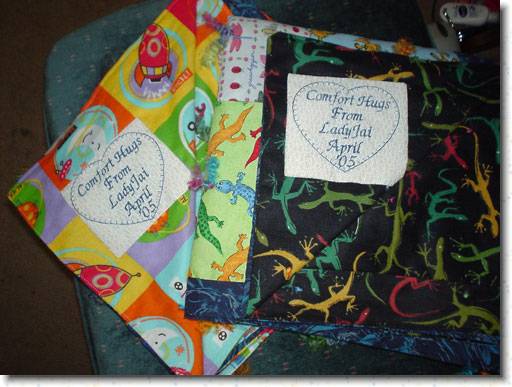 When all this happened, I felt compelled to do something, even just a little bit. I wanted to offer the boys a little comfort. I made two small comfort quilts for the two boys and delivered it to the detective investigating the incident. He was to give the quilts to the boys. When they asked for my name, I politely said "Just tell them it's from someone who cares." I hope those two quilts made it to them and they found some sort of comfort in them.
3 Comments